I couldn't just settle with general crafting... not this gal. I had to try something completely foreign to me. Something I never thought I'd do, much less enjoy! I have entered into the joyful world of jewelry making! I bought a couple of "beginner" sets a little over a week ago and even though it was later realized to be a crappy set, I found it to be fun & incredibly enticing! I may not have liked what I had created, but I loved that
I
was the one creating it! I had to try more.
You could say I was hooked instantly. I dived in head first like I always do with anything new & exciting and spent an incredible amount of $$$ on supplies and beads and organizers and just about everything I needed to get me started off right. Boy, was I overwhelmed! Yeesh! But, I was HAVING A BLAST!
Over the past several months, I have become quite fond of Etsy and the level of service that the artisans and sellers put into their shops and most importantly, their customer service. I have personally bought a few items on Etsy and truly was impressed with the entire process of shopping, buying & receiving an item. It's just not a feeling I get when I shop at national chain stores. So, a light bulb went off...
I have a friend/co-worker who has an Etsy shop,
Stuck Together Magnets
. She sells fabulous homemade magnets and she does pretty well for herself. I asked her some questions and after some careful thought, I said to myself, "Why couldn't I do that?" So I opened my very own Etsy shop!
I personally invite you to visit
~AnnLeigh Creations~ Homemade Jewelry & Crafts With A Purpose!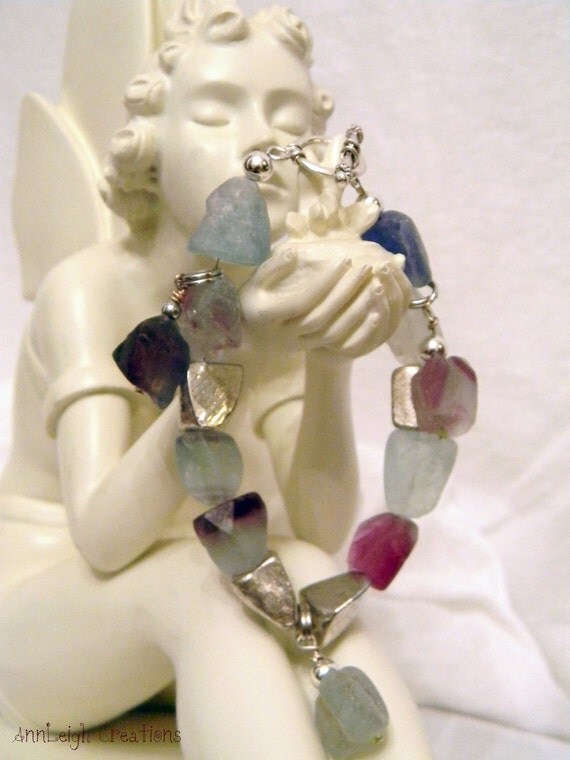 Rainbow Fluorite Beaded Charm Bracelet
As of right now, I only have 5 total items in my shop, but more items are coming very, very soon! Promise! There's nothing stopping me now! I purchased some incredibly wonderful beads & supplies from Etsy seller,
"Simply Pie"
to bulk up my depleted, starter level inventory. I can't wait to receive my goodies so I can make more beautiful creations!
Check out my store for more details on why I chose the name, my policies, my mission, etc. I'm super excited about my new crafting venture and I hope you are too! I can't wait to continue to learn new projects and share with you all! Your support would be greatly appreciated!!!
You can also "
LIKE
" ~
AnnLeigh Creations
~ on
Facebook
:
http://www.facebook.com/AnnLeighCreations
I've also added a widget in my sidebar that easily shows you the latest 4 items added to my shop. Check it out! And, you may notice there's now both
Etsy
&
Facebook
icons in my
"Find Me Here"
section at the top left. Easy ways to find me!
I'd love to know what you guys think? So far that is. Leave me a comment to let me know!
Talk with you again soon!